I was looking for a good book to read on Amazon recently, you notice I shop a lot on Amazon yet?  When I look for books I tend to go and find a book I've read and look at "Customers who bought this item also bought" section.  Then I go and read the description and reviews. This time I had actually found a list on the web about good summer reads. I decided to pick up "The Boys in the Boat."
My reading "type" is sort of all over the place. I love mystery novels, romance (not smut), historical fiction, contemporary, and every once in a while a true non-fiction will peek my interest. That is what this story is… a non-fiction story about the people who worked so hard to represent the USA  in the Berlin Olympics.
What drew me to this story? Well it's not the rowing aspect since I've never crewed a boat my whole life. I think it was the Berlin Olympics that first drew me in.
The story is about Joe Rantz and how he came to part of the Washington State crew team who represented the USA. Joe lead a tough life. He grew up during the Great Depression. Just like many in this time and age in our country, Joe had to grow up faster than he should have. He lost his mother at a young age and was bounced around a while before settling back with his dad. But, this didn't mean that Joe's life got easier. When Joe was still in high school he was out on his own, but that didn't stop Joe. He used ingenuity to find ways to maintain his house, stay in school and live.
Joe went to Washington State University and there he joined the Crew. This in itself is not an easy feat. Many try out but few last through the season. The Washington State crew was not made up of "high class" boys who grew up with privileged like the crews on the East Coast. No, these boys grew up working farms, logging mills, and all kinds of jobs that include hard manual labor. They earned their way through college cleaning up after others so they can pay their way.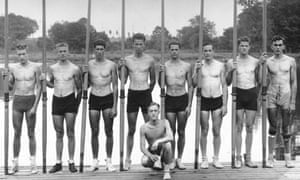 Now, don't think this story is a sad story that shows these guys working hard and not having fun. They knew how to enjoy themselves when they were together. One of my favorite stories is when they went in search of the President F. D. Roosevelt's home during a break from practices. The relationship that is formed between the guys is real. It is what helps this crew find their way not only into the Olympics, but on the podium.
This book also shows the path of the boat maker George Pocock who will become Joe's confidant and mentor. George too grew up working hard. George's father was a boat maker as well and taught George the craft, but it is George's love of crew, the water and the sport that made him one of the best in the business.
The book parallels the trials and tribulations of the members of the crew with the goings on of Germany at the time. You learn about Hitler and many of the people who work for him. How they influenced him to have the Olympics in Germany and how they put on a show for the world in order to sway and deceived the world into what was going on in the real Germany.
I found myself draw into this book. It became a I can't put this book down book. I found myself telling Richard about it. I talked to the boys about the parts I felt they would enjoy and even watched the PBS documentary with them.
If you love a good underdog story, this book is for you. If you like to read about the history of the US in this time frame, this book is for you. If you like a story that draws you in and has you cheering for the people who work hard to make a better life for themselves, this book is for you. If you like crew, this book is for you.
If you have read this book already, what did you think? Have you recommended it to others? If you have not, let me know if you have questions or if you'd consider reading it too.